This is an email Lennie Roberts, a staunch and long-time environmental activist, recently circulated re-affirming her endorsement and support of Ray Mueller. I've removed a few extraneous spaces for clarity.
---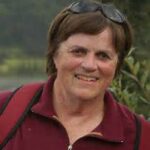 Hi friends,
I don't usually send out recommendations for political office, but because the District 3 County Board of Supervisors race is important – especially for our Coastside, I recommend Ray Mueller.
I have known and worked with Ray on environmental issues over many years, and believe he is best qualified for the seat being vacated by Don Horsley. I am confident that Ray will be a strong supporter of coastal protection. He is adamantly opposed to offshore drilling — which may well rear its ugly head in a couple of years if our country flips back to Trump et al. HIs opponent's campaign has recently implied that Ray would be sympathetic to oil and gas interests as two oil companies – Chevron and Phillips 66 – have contributed to an Independent Expenditure Committee supporting him. Nothing could be further from the truth. As a surfer and beach lover, he is adamantly opposed to any offshore drilling along the California coast.
As a Menlo Park Mayor and Council member, Ray has been a staunch defender of the city's parks, and opposed converting part of Sharon Park and Burgess Park to housing, as was recently proposed by housing advocates. He also successfully banned the use of environmentally harmful herbicides in City Parks and other public spaces. As a member of Surfrider Blue Water Task Force, he's been a volunteer sampling water quality at our coastal streams and beaches.
Ray is endorsed by Sierra Club and all seven members of the Midpeninsula Regional Open Space District, among many others. For more endorsers see: